Back to all Blogs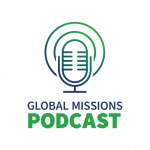 This article has been adapted from the recent podcast episode, "The Crucial Role of Senders in the Great Commission." Peggy Spiers of All Nations International, shared many great thoughts in this episode, and we wanted to share some of them with you in this post. This article will share some of many ways that Senders can serve.
The conversation on the Global Missions Podcast contains even more helpful ideas and answers to these important questions:
When Christians talk about missions, we often emphasize the Goers. Why do you place such an emphasis on the Senders?
How can missions committees invite people to participate in sending?
What are some great resources for Senders?
1. Be welcoming.
Missionaries are trained, as Paul told Timothy, "Be hospitable." (1 Timothy 3:2). This is one of the greatest characteristics a Goer can have, and the same is true for Senders. Senders have the opportunity to invite people into their home and into a role that is incredibly important. The hospitality of a Sender can inspire both those who will Go and those who will Send.
As a Sender, consider using your space to house a missionary who is on home service. Or, perhaps you can show hospitality to a group of Senders for a prayer night or missions committee meeting. Your hospitality could also inspire future missionaries as you use your home as a gathering place for a missions conference. Use your creativity to consider the ways your hospitality can bless others and advance the Gospel.
2. Keep an eye on the news.
This suggestion does not stop at simply turning on the nightly news or turning on notifications for your favourite news source. Instead, think of what a blessing it could be to a missionary you care for, if you were to pay attention to what is happening in the country in which they serve. As you build your awareness, opportunities will arise for you to pray and encourage that mission worker based on the day-to-day situations they are facing.
Of course, we do not need to know all or any important details about what is happening in a country to pray to our all-knowing God. God hears and answers our prayers no matter the level of understanding and knowledge we think we possess. However, for someone with a keen eye for current events, consider the ways you can be intentional to use this to bless those your church has sent.
3. Pay attention to the calendar and important dates.
Imagine how encouraging it would be for someone to remember your MK's birthday. Or for the missions committee to reach out on behalf of your Sending Church to acknowledge and celebrate your 5-year milestone of being on the mission field. What if the pastor of your Sending Church intentionally organized a prayer time for your church that coincides with a significant religious festival in the country you serve in?
Intentional points of connection and encouragement like this can only be accomplished with the help of someone who can pay close attention to the calendar. Be on the lookout for important dates in the lives of your missionaries and be prayerful and creative about how you can use this knowledge to bless them!
4. Get to know your mission workers.
This one is simple! Build a friendship with a missionary you know. Remember you are Children of God, brothers and sisters in Christ, heirs of God, and co-heirs with Christ (Romans 8:17). The unity we experience as believers, even (and especially!) across geographical distance is of great encouragement to both you and the Goer that you will build a relationship with.
---
If you need some inspiration for great questions you can ask your missionary to get to know them, consider using one of these resources, available in the Toolbox!
---
5. Be a learner.
There are a lot of places you can start with this. Read Mission Frontiers, download the Joshua Project app, sign up for missionary newsletters. Learn about
Remember to learn at a pace that you can manage!
6. Reply to the newsletters you read.
Newsletters are meant to be two-way communication between the missionary and their Senders, but very often, this opportunity is missed. It is greatly encouraging to the missionaries that you know to receive even a short response to their updates.
To be sensitive in regard to security concerns, use the language that your missionary uses.
7. Get to know the mission agency your missionary serves with.
Get to know the work the agency does, and the people who serve in the organization. These are the people working alongside you to care for your missionary. When there is a trusting relationship with the agency your missionary serves with, everyone is better equipped and prepared to support the mission worker.
8. Download a secure communication app.
Some apps that we use to communicate are more secure than others. Security needs are changing all the time, and our mission workers are responding to those changes regularly. As Senders, we should also be prepared to make changes that protect the safety and security of our missionaries as much as possible. Your ability and willingness as a Sender to take into consideration the security of our mission workers will facilitate a healthy and trusting relationship.
We hope these eight ways to serve as Senders have sparked some ideas that you can begin to implement! We encourage you to listen to the whole podcast conversation as well for even more great conversation and ideas. You can find it on the Global Missions Podcast here.